> les chansons de high school musical
                                           les chansons de high school musical:
Jaloux de l'attention qu'ont reçus Troy et Gabriella, Ryan et Sharpay décident de restituer l'ordre normal de la vie selon eux (stick to the status quo). Pendant l'été, toute la bande de East High trouve du travail dans un club de country dirigé depuis toujours par la famille de Sharpay.A la fin de l'été un grand concours de jeunes talents. Pour être certaine de gagner, Sharpay avec l'aide de son frere veut briser le couple Troy-Gabriella. Pour cela, Sharpay fait semblant de se noyer, sachant que Troy a été sauveteur à la piscine durant l'été. Ryan profite de cette simulation pour dire à Gabriella qu'il a vu Troy et Sharpay discuter ensemble. Il la conduit alors là où Sharpay simule sa noyade. Cela choque Gabriella car elle voit Troy « embrasser » Sharpay (En fait il lui faisait du bouche-à-bouche). Une crise se déclare dans le couple Troy-Gabriella. Ryan et Sharpay voient leur plan se concrétiser et cela marque le commencement du couple Sharpay-Troy sachant que Sharpay a toujours eu un petit faible pour Troy, qui décide alors de parler à Gabriella pour sauver son couple. Troy va voir Gabriella pour lui dire la vérité et c'est la que Sharpay et Ryan vont être surpris car il va y avoir un concours de chant en ville pour les couples de chanteurs de l'année. Troy et Gabriella se réconcilient et vont comploter un plan avec leur amis Taylor et Chad … Troy et Gabriella vont chanter leur chanson « Star of Something new ». Sharpay et Ryan eux vont chanter une chanson composée par leur compositeur personnel. Le concours sera gagné par Troy et Gabriella. Le Maire leur remettra un trophée de la part de la ville. Pour ce qui est des cours Troy continue le basket il aura un match décisif la finale et Gabriella devra gagner le décathlon scientifique pour qualifier son équipe. Le père de Troy lui sera fier de son fils en tant que basketteur et en tant que chanteur. Pour Gabriella sa mère ne sera plus mutée autre part elle restera vivre en ville. Cela rapprochera Troy et Gabriella qui auront une relation plus que sérieuse .
la chanse 1 :
la chanse 2 :
la chanse 3 :
la chanse 4 :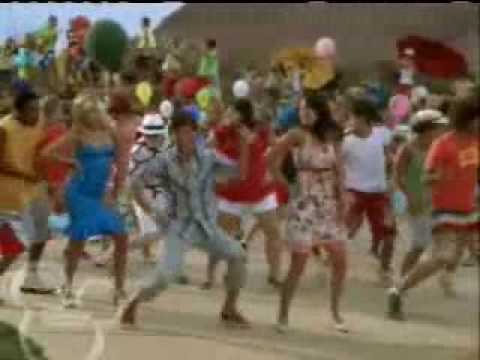 la chanse 5 :
la chanse 6 :
Kelsi:
na na na na
na na na na yeah
You are the music in me
You know the words once upon a time
make you listen
there's a reason
Kelsi and Gabriella:
When you dream
There's a chance you'll find
A little laughter
Or happy ever after
Troy and Gabriella:
Your harmony to melodies
It's echoing inside my head
A single voice
Above the noise
It's like a common thread
Hmm you're pulling me
Gabriella:
When I hear my favorite song
I know that we belong
Troy:
You are the music in me
It's living in all of us
Gabriella:
It's brought us here because
T&G:
You are the music in me

Gabriella:
Na na na na
Troy:
Oh
Gabriella:
Na na na na
Troy:
Yeah yeah yeah

Gabriella:
Na na na na
T&G:
You are the music in me
Gabriella:
It's like I knew you before meet
Can't explain
There's no name

Troy:
No name for it
T&G:
I said the words I never said
Troy:
It was easy

Gabriella:
So easy
Troy:
Because you see the real me
T&G:
As I am
You understand
And that's more than I'll ever know
Gabriella:
To hear your voice
Troy:
Hear your voice
Gabriella:
Above the noise
T&G:
I know I'm not alone

Gabriella:
Oh you sing it to me

T&G:
When I hear my favorite song
I know that we belong
You are the music in me
It's living in all of us
It's brought us here because
You are the music in me
Together we're gonna sing
We got the power to sing
Troy:
What this is
Gabriella:
What we'll be
Troy:
Connected to me

T&G:
And keep it all inside
Everyone (T, G & K):
Na na na na oh yeah
You are the music in me
When I hear my favorite song
Troy:
Favorite song
Everyone:
I know that we belong
Gabriella:
We belong
Everyone:
You are the music in me
It's living in all of us
It's brought us here because
Gabriella:
Here because
Troy:
You are the music in me
Everyone:
Na na na na oh yeah

T&G:
You are the music in me